Come & Feel The Difference
Montessori & Me fosters independence, confidence, critical thinking abilities and creativity in a warm and welcoming environment. Our hands-on, 'whole child' approach supports each student's unique qualities and individual learning style for a learning experience that's compelling, effective and fun!
✅ Experienced Faculty
✅ Love & Care
✅ Hands-on Learning
✅ Innovative Learning
✅ Parent Involvement
✅ Low Teacher-Student Ratios
✅ Mixed Age Classrooms
✅ Montessori Method of Education
✅ Weekly French Class
✅ Yoga, Music & Ballet Classes On-Site
Now offering programs from Preschool through Kindergarten.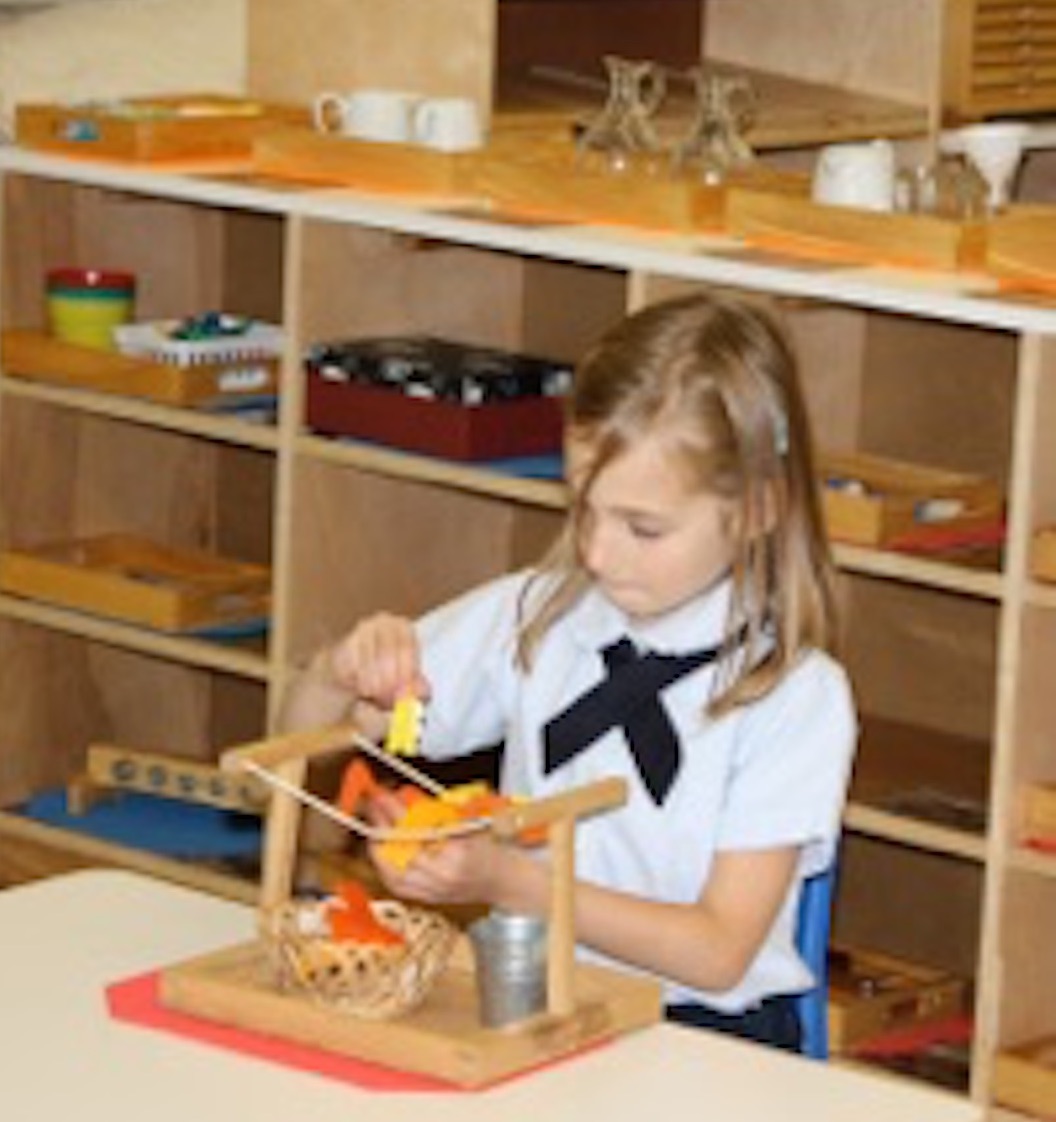 The Director's Message

Judith Martins
Director, Montessori & Me
Thank you for taking the time to learn more about Montessori & Me. Each day at our school is an exciting new opportunity to enrich the minds of our students, and we hope your child will join us.
Montessori & Me is a child-centered community of two and a half, three, four and five year old children. We believe that children thrive in this mixed age grouping where they learn not only from their teachers, but from one another. In an ideal setting, students begin their Montessori education at 2.5 years and remain with the same friends and teachers for three to four years.
We provide an authentic Montessori environment, respecting the young child's determination for autonomy. Freedom of movement, exploration and independence are always encouraged. Students work at their own pace with achievement motivating success. There is constant interaction, socialization and problem solving.
We view parents as the child's first teacher. Ongoing communication between home and school is encouraged and maintained through notes to home, monthly newsletters and school emails. We are the only Montessori preschool in Edmonton with webcams in our facility. Parents may log on at any time using a restricted password to see their child at work and play.
There are no specific academic entrance requirements; however, we base admission decisions on many factors, especially your child's age and suitability for our program.
Please contact us regarding availability for your child, and to schedule your personal tour of our school. We will be happy to answer your questions and provide additional information about our educational programs.
Kind regards,
Judith Martins
Director, Montessori & Me
Our Mission
We are a community of teachers and parents dedicated to developing the spirit of the child by encouraging independence, curiosity, responsibility and cooperation. We respect the child's uniqueness, promoting tolerance, good sportsmanship and non-violence. In keeping with the true meaning of the word "discipline", which is to teach, we choose to model appropriate behaviors by demonstrating kind and considerate ways to behave. We help the child understand that conflicts can be resolved. That everyone has the right to be heard and their feelings respected. We believe that manners are important and sadly lacking in our culture today. To support the child's social development, we provide daily lessons in grace and courtesy. Our ultimate goal is to encourage self-discipline, respect for oneself, for others and for the planet we share.
Our Philosophy
At Montessori & Me, we believe in the celebration of the young child. Children are natural explorers, determined to discover their new world, so our role as teachers is to make learning an exciting and rewarding journey. We gently guide the development and competency of the child by supporting independence and encouraging responsibility. In teaching children specific skills, we seek not only to impart knowledge, but to also instill habits of learning, questioning and relating to others. We encourage each child to reason, to cooperate, to collaborate, to negotiate and to understand.
We are firmly committed to Dr. Maria Montessori's method of learning. Our vision is not for the short term, but to prepare the child for a life-long love of learning. Our program, therefore, is for the holistic development of children and their future academic success.
Community
Respecting children. Encouraging thought. Reaching out to help others. These are the fundamental beliefs of Montessori & Me. It is the expressed desire of this school to create within each child a sense a community and a willingness to help others in need. Children learn to be of service by participating in various projects throughout the school year. Older students become leaders and role models by tutoring younger students and guiding new students during phase-in.
In partnership with parents, we strive to help each child become a responsible, contributing member of the community and to share what we can, with our global families.
Diversity and Non-Competitive Atmosphere
We value and celebrate a diverse population. We do not discriminate based on race, color, creed, ethnic origin, gender, income or disability. Multicultural education is an integral part of the Montessori curriculum, ranging from cultural studies in the classroom to community service projects.
We strive to create a stimulating, cooperative and non-competitive environment. It is important for children to develop a joy and enthusiasm for learning.
Our Staff
We are proud of our staff! Our certified Montessori teachers have achieved specialized and advanced training in the Montessori method. They are chosen for their love of the preschool child and the ability to create an environment that is warm, caring, engaging and fun.
+ Judith Martins
Lead Montessori Early Childhood Teacher, Program Director & Owner
BA – (FY & SY) University of Bombay, India
International Diploma in Montessori Pedagogy – Montessori Centre International – England
Montessori ECE Diploma (M.A.C.T.E. Accredited), Montessori Teacher College – Canada
Alberta Child Care Certificate – Level 2
Ontario Child Care Certificate – Level 3
Standard Child First Aid Certificate with Level 'B' CPR – Breath For Life
Advanced Food Safety Certificate – Canadian Food Safety
+ Michelle Lopez
Montessori Early Childhood Teacher
B.S. (Major in Psychology) – St. Paul College, Philippines
Montessori Early Childhood Diploma – University of San Carlos, Philippines
Montessori Early Childhood Certificate – College of New Rochelle, USA
Alberta Child Care Certificate – Level 2
Standard Child Care First Aid with Level 'B' CPR – Breath For Life
Advanced Food Safety Certificate – Canadian Food Safety
+ Tujce Bilmez
French Teacher
Kindergarten French Teacher – 100 Hours Teaching Experience
Standard Child Care First Aid & Level 'B' CPR – Canadian Red Cross
+ Asma Saqlain
Montessori Early Childhood Teacher
MA (Fine Arts) – University of Punjab, Pakistan
Montessori ECE Diploma (M.A.C.T.E. Accredited), Toronto Montessori Institute – Canada
Alberta Child Care Certificate – Level 2
Standard Child First Aid Certificate with Level 'B' CPR – Breath For Life
Advanced Food Safety Certificate – Canadian Food Safety
+ Courtney Woods
Ballet/Dance Teacher
Advanced Certification in Jazz & Tap – Associated Dance Arts for Professional Teachers (A.D.A.P.T.)
Grade 6 & Intermediate Level Certification in Ballet – Royal Academy of Dance (R.A.D.)
Training – Modern, Lyrical, Contemporary, Pointe, Musical Theatre, HipHop, Funk Styles, African and Animation
Emergency First Aid Certificate with Level 'C' CPR – Canadian Red Cross
+ Aileen Panis
Music Teacher
Level 9 Piano Certificate – Royal Conservatory of Music
Piano Theory History 1 – Royal Conservatory of Music
Basic Harmony Certificate – Royal Conservatory of Music
Private & Group Piano Teacher – 20+ Years Teaching Experience
Certified MYCC – Group Music For Young Children
Child Care Development Supervisor Certification
Standard First Aid Certificate & Level 'C' CPR – Breath For Life