A School In Your Community
We have built our reputation on a highly enriched academic curriculum with a strong focus on the Arts and French as a second language. No subject is taught in isolation as the curriculum is interdisciplinary and interactive. In addition to our core studies in Math and Language Arts, students receive training from qualified teachers in dance, art, yoga, French and music. Students also participate in 20 – 30 minutes of gym activity each day.
At our school, your child may:
• Watch the miracle of a butterfly hatching.
• Learn to tie a shoe lace or button a sweater.
• Perform in a Spring Concert.
• Incubate fertilized eggs and observe as they hatch into chicks or ducklings.
• Identify and reproduce simple and complex shapes.
• Participate in themed party days.
• Learn to plant seeds, work with soil and care for our planet.
• Set a table and share a snack and/or meal with friends.
• Chart the life cycle and learn how tadpoles turn into frogs.
• Learn about the continents, oceans and a variety of countries.
• Construct a volcano.
• Explore the function of a plant's root system.
• Learn the alphabet, colours and numbers in English and French.
• Dress up as a Pirate or a Prince/Princess.
• Identify minute variations in texture, weight and form.
• Explore famous and historical figures.
• Discuss our solar system and identify planets.
• Paint, sculpt and draw.
• Run, skip, jump and play familiar childhood games in a large gymnasium or field.
• Learn to recycle and celebrate Earth Day.
• Sponsor children through World Vision, Canada.
We are proud of our staff! Our certified Montessori teachers have achieved specialized and advanced training in the Montessori method. They are chosen for their love of the preschool child and the ability to create an environment that is warm, caring, engaging and fun.
We view parents as the child's first teacher. Ongoing communication between home and school is encouraged and maintained through notes to home, monthly newsletters and school emails. We are the only Montessori preschool in Edmonton with webcams in our facility. Parents may log on at any time using a restricted password to see their child at work and play.
Please take a moment to review our website and feel free to contact us with any additional questions you may have. We look forward to meeting you and your child.

Learn More About Us
The Essentials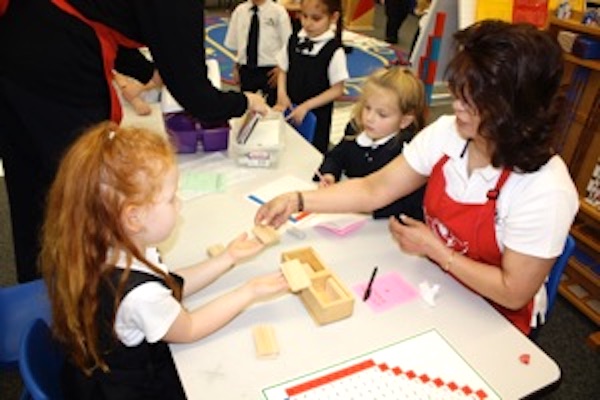 The Montessori environment
The word "Montessori" is not patented; anyone can use the name and it is never an assurance of quality. There are many day care centres, nurseries and preschools throughout Edmonton that use the name Montessori and haven't the slightest idea who she was or even have one piece of authentic Montessori equipment.
Fact: There are more than 8000 preschools, day care centres and nurseries in North America that use or associate their programs with Montessori. Sadly, fewer than 260 employ trained and qualified Montessori teachers.
-American Montessori International (AMI)
In a traditional Montessori preschool there will be:
BulletTrained and certified Montessori teachers.
BulletA full range of Montessori materials (didactic aids). If you are unfamiliar with these materials, ask to see the "pink tower", "red rods", or "geometric solids". These are just a few of the manipulatives used in an authentic Montessori Preschool.
Classroom Routines
Students are welcomed to class each day and shake a teacher's hand. We end our session with the same ritual, a handshake and "thank you for the good work you did today". Lessons in "grace and courtesy" are the cornerstone of the Montessori method.
The Montessori classroom is divided into five distinct areas: Practical Life, Sensorial, Mathematics, Language Arts and Culture. No subject is taught in isolation as the curriculum is interwoven. Group activities include circle time, story telling, music, dance, yoga, culinary arts, arts/crafts, gym, nature walks and French lessons.
Before classes begin we have a 15 minute period of play. This provides an opportunity for students to arrive, greet their teachers and visit with friends.
Our day includes 20 to 30 minutes of physical exercise outdoors (weather permitting) or in the Britannia School gymnasium. Students run, skip, play games with balls, the 24 man parachute, hopscotch, tumble mats, hula hoops and a full range of preschool sized gym equipment. Traditional games such as Bean Bag Toss, Red Light Green Light, Farmer in the Dell, Duck-Duck-Goose, Red Rover, London Bridge and other favorites are enjoyed by all. Teachers supervise and participate in all gym activities. After gym, students freshen-up and are encouraged to have a drink of water.
We host a traditional circle and sing Our Welcome Song, discuss the calendar and seasons, festive events and holidays. Each day the class is presented with new material relating to our monthly themes and area of cultural study. All students are encouraged to join in our circle group discussions.
The students work with our Montessori materials for approximately 90 minutes. Individual and small group presentations occur spontaneously. This year our ballet, music and yoga classes will be held on Fridays, French on Wednesdays and Art on Tuesdays. The last Thursday of the month is also our culinary arts class.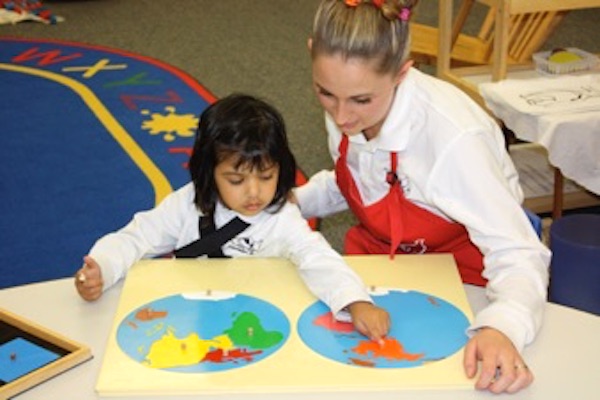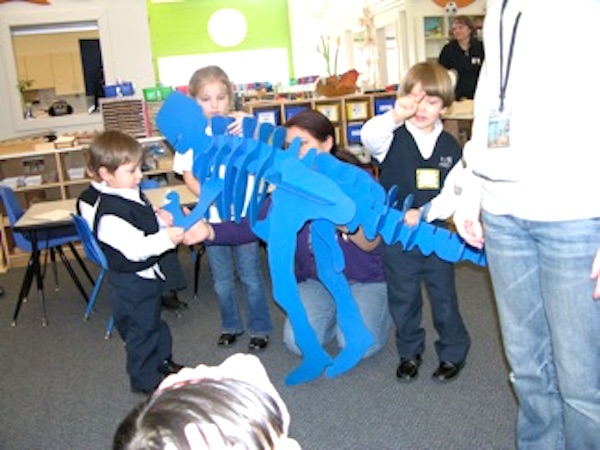 Admissions
The process begins with your school tour to visit our school. Following this, you will promptly hear back from Montessori & Me, and you will be requested to fill out and send us an Application Form.
Now Accepting Applications for the 2022-2023 and 2023-2024 School Year. Space is limited!
Parent Testimonials
"It is remarkable to think that indeed 5 months ago our son didn't know a word of English…I'm amazed every time I hear him and I know this wouldn't have been possible without the hard work and patience you and your staff have put into working with him. I know it takes an extra to blend an ESL child into that environment and work with him to make him understand not only the new language but all the other things the children learn…We thank you all for all your efforts and appreciate all your efforts from the bottom of our hearts."
"I never dreamed my child would learn to read, multiply and divide before Grade One. Most of all – I never dreamed my child would LOVE to do these things! Your academic program is outstanding. You break everything down into simple steps and slowly but surely they get it! In addition to the three R's, you offer a fantastic arts program. This year I didn't have to rush around enrolling my child in all these other programs like my friends did. At M&M they get to dance, they paint, they sing – they get it all! The M&M program is so well balanced and the class sizes small. I always knew my child would receive the best of care."
"This September we enrolled Lola in her first year of montessori. We discovered a quality preschool named Montessori & Me! Since Montessori, Lola has grown in maturity, kindness and has a love of learning, concentration, responsibility and work."
"We are more than happy to recommend Montessori and Me as a high quality preschool. We were delighted not only at the quality of education, but also at the manner in which course material was prepared and delivered to the children. It was clear that the teachers appreciated the individual skill sets unique to each child and developed fun – orientated programs with each family specifically geared to their kids. It is still an endless source of joy for us to marvel at the fluency with which our son reads short stories, applies himself to the arts and crafts and looks upon each wonder with boundless energy and curiosity. We felt involved with and fully informed of the developments at the school and appreciated the extent to which other parents turned Montessori and Me into an active community through participation and communication. We firmly believe that many of the skills developed by our son will be of tremendous benefit to him in the years ahead and look forward to enrolling our daughter at Montessori and Me when she comes of age."
"I would highly recommend Montessori & Me as the preschool of choice in Edmonton. There is no other preschool that I have found that has all of the programming that M&M offers. My daughter has learned so much in the two years that she has been a part of the program and with Miss Judith's guidance, as well as the other teacher's, has been accepted into Kindergarten a year early. I have been impressed with all of the teaching staff and quality of care that my daughter receives and can't wait for my other daughter to be old enough to attend."